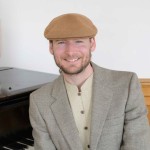 Bay Area based Grant Levin is a multi-faceted contemporary pianist, band leader and writer of music who performs in various configurations from intimate settings to concert halls and festivals. His musical aesthetic is based on dynamics, showcasing the piano as an infinitely powerful instrument, allowing the audience to experience the sonic possibilities.
His compositions have been premiered at the Alfred Loeffler Symposium. His discography includes: "The Bust"(2003), "Grant Wishes"(2006), "Riego"(2008), "Hawkeye" with Sam Bevan, Masaru Koga, Bryan Bowman (2010), "Homespun" with Fred Randolph, Bryan Bowman (2011), the Noel Jewkes Quartet (2012), "The Changing Scene" with Omar Aran and Ollie Dudek (Dude Trio) (2013), "Keepers of the Flame" with Dave Bendigkeit Quartet (2013).
He has performed at the Fillmore, Benicia and Cotati Jazz Festivals. Venue appearances include Yoshi's SF, Yoshi's Oakland, 57th Street Gallery (Oakland), the Sound Room (Oakland), Piedmont Piano Company (Oakland), Bird and Beckett Books and Records (SF), Emerald Tablet (SF), Red Poppy Art House (SF), the Hedley Club (San Jose), the JazzSchool (Berkeley), the Hillside Club (Berkeley), Mildred Owen Concert Hall (Pacifica), Silo's (Napa), Osteria Divino (Sausalito), the Sand Dollar (Stinson Beach), 19 Broadway (Fairfax), Pasta Moon (Half Moon Bay), Ritz-Carlton (Half Moon Bay), Plaza Bistro (Sonoma), Hotel Healdsburg.
Musicians he has worked with include:Little Anthony and the Imperials, Pete Yellin, Dayna Stephens, Akira Tana, Essiet Essiet, Barry Finnerty, John Santos, Ratzo Harris, Noel Jewkes, Howard Wiley, Lori Bell, Melecio Magdaluyo, Marc Russo, Bob Magnusson and numerous others. Has been piano accompanist for vocalists Tiffany Austin, Kenny Washington, Sachal Vasandani, Jesse Foster, Carol Stallings and Sandra Aran.